The Fenix BC30 LED bike light includes a maximum of 1800 lumens and a maximum runtime of 20 hours. The Cree XM-L2 neutral white LED's on the Fenix BC30 produce a maximum beam distance of 557 feet when on the 1800 lumen burst mode. The remote pressure switch included will quickly and easily access the burst mode. The Fenix BC30 runs off either two 18650 batteries or another option would be four CR123A batteries.
Compatible with the ALB-10 Bike Mount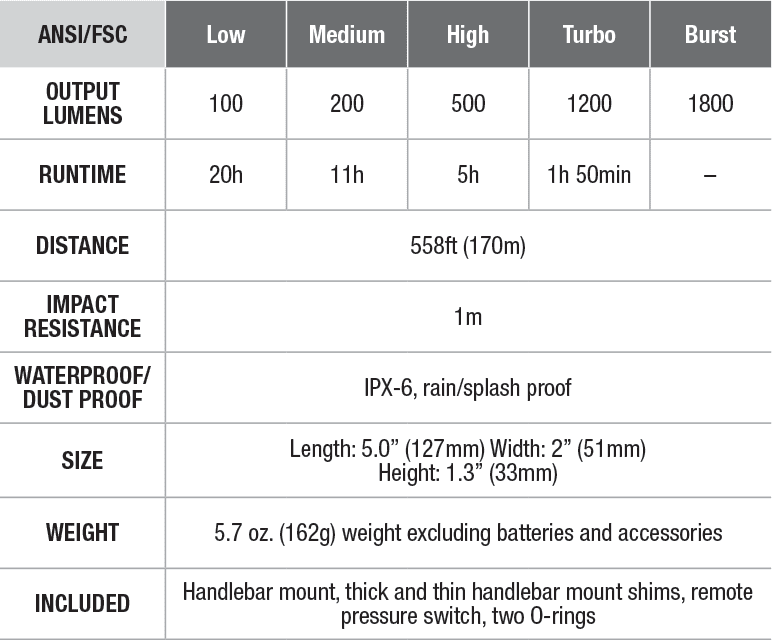 Specifications
Utilizes two Cree XM-L2 neutral white LEDs
Four Modes of Operation:
Turbo: 1200 Lumens (1 hour 50 min.)
High: 500 Lumens (5 hours)
Mid: 200 Lumens (11 hours)
Low: 100 Lumens (20 hours)
Instant Burst: 1800 Lumens
Flashing Mode: 200 Lumens
Maximum Distance: 170 meters (557 feet)
Max 1800-Lumen Output
Instant burst activation with the remote pressure switch
Dual distance beam system
4 brightness levels plus warning mode
Digitally regulated output – maintains constant brightness
Quick attach and detach handlebar mount sized for 22mm – 35mm handlebars
Easy, secure adjustment of the light's direction
Made of aluminum alloy and quality plastic
0 – 30 degree horizontal adjustment and any vertical adjustment to satisfy your various lighting needs
High-quality detachable rubber mat included for improved shock resistance
Innovative quick-change battery system for fast and easy battery replacement
Low-power battery indicator
IPX-6 Rating: Normal function in heavy rain or thick fog
CLICK HERE for the Fenix BC30 User Manual
Size of the Light
Length: 5 in./126.7mm
Width: 2 in./50mm
Height: 1.25 in./31.8mm
Weight: 5.7 oz./161 grams (excluding batteries and handlebar mount)
Batteries Used (NOT INCLUDED)
Two rechargeable 18650 batteries (accepts Fenix ARB-L18-2600, ARB-L18-2600U, ARB-L18-2900, ARB-L18-3500, or ARB-L18-3500U, and Tenergy). Each has a different mAh. The higher the mAh, the longer the runtime between charges.
Compatible chargers for all 18650 batteries: ARE-X1, ARE-X1+, ARE-X2, or ARE-C2+
Four non-rechargeable CR123A batteries. (Fenix does NOT recommend rechargeable CR123 batteries since they will not perform according to the specification chart included for the BC30)
Included With the Bike Light
1 – Fenix BC30 LED Bike Light
1 – Handlebar Mount
2 – Handlebar Mount Shims (one thick and one thin)
1 – Remote Pressure Switch
2 – O-rings (one black and one red)