The Fenix BC25R LED Bike Light has finally arrived! This new commuter bike light is elegant with a powerful output of 600 lumens. The New Fenix BC25R can be seen at an impressive 347 Feet. Designed with safety in mind, the Fenix BC35R has an anti-glare cut-off facula that prevents pedestrians from losing visibility. The easy-to-use quick release mount makes charging the flashlight a breeze. The compact design with included single-switch control allows you to use the bike light as a flashlight also. The Fenix BC25R body also provides an easy-to-see battery level indicator that will let you know when it is time to recharge you light via Micro USB. Since the bike light has a 2600mAH Li-ion battery built in, you won't have to worry about chargers and spare batteries. The BC25R can even take on rainy day with the IP66 rating, preventing small dust particles and heavy rain and splashing causing any damage to the bike light. The body is designed with all-metal heat dissipating fins that prevent over heating or burning. Make the Fenix BC25R you next commuting bike light!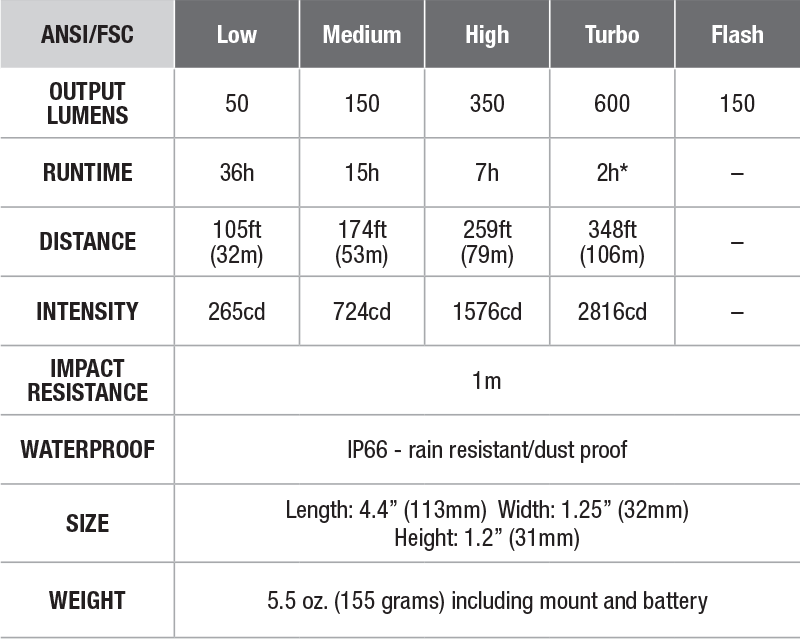 Specifications
Fenix BC25R Lumen Output Levels
Turbo: 600 Lumens – 2 Hours – 347 Feet
High: 350 Lumens – 7 Hours – 259 Feet
Mid: 150 Lumens – 15 Hours – 173 Feet
Low: 50 Lumens – 36 Hours – 104 Feet
Flashing: 150 Lumens
Anti-glare cut-off facula line makes urban commuting safer for oncoming persons.
Compact size for easy carry
CREE XP-G3 neutral white LED – max 600 lumens, with a lifespan of 50,000 hours
Built-in 2600mAh Li-ion battery
Micro USB rechargeable
5.4 oz./155 grams (including mount and battery)
Battery level indication and low-voltage warning
One switch control
Quick-release bike mount, easily operated
Can be used as a flashlight
Fenix BC25R Size
Length: 5.2 in./133mm
Width: 1.25 in./33mm
Height: 1.22 in./31mm
Weight: 5.4 oz./155 grams
Included with your Fenix BC25R
1 – BC25R Bicycle Light (includes a built-in 2600mAH Li-ion battery)
1 – BC35R Handlebar Bike Mount
1 – USB charging Cable
1 – Bike Mounting Shim – Thin
1 – Bike Mounting Shim – Thick
1 – User Manual and Warranty Card
Fenix BC25R User Manual
Operating Instruction
On/Off
Press and hold the switch for 0.5s to turn the light on/off.